The origins of Popcorn
Gershon Kingsley
(most of the following text is taken from Gershon Kingsley's website)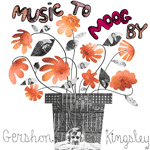 the album which includes the
first popcorn ever
Despite the wide range of music Gershon Kingsley has composed, he is most well-known for a 1972 instrumental dance hit called "Popcorn".
Kingsley recalls that he wrote the primary melody to "Popcorn" in about 30 seconds. The song was first released in 1969 as part of a Kingsley solo album called "Music To Moog By". An album which which primary instrument was the Moog Synthesizer, designed by Robert Moog. A single version was released too, which had some extra effects compared to the album version. These versions differ quite a lot from the well-known version released by Hot Butter in 1972. First, the melody is slightly different. Also, the melody on the single version doesn't start with the popping sound at first. And last, the "b-part" or the chorus, did not exist in this version.
After his solo-album, Kingsley decided to take the Moogs on the road with The First Moog Quartet, which toured through the college and universities of the United States during the early 1970s. The song "Popcorn" was used as their encore song. This version was released in 1972 on their LP "Popcorn". This became the template for the later covers. This is also the first version with the chorus/b-part.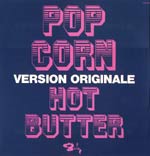 hot butter single (france)
Hot Butter
Early 1972, Denny Jordan, promotion manager of the small recordcompany Musicor, hears the song by accident. He is excited and decides to release it as a single. He asks Arthur Talmadge, chef of the recordcompany, to help him. Talmadge has some people working for him: sound engineers, arrangers, specialists in music, and he gets them excited for this project.
Frontman Stan Free, who was a member of the First Moog Quartet, played the Moog on this recording. Helped by John Abbot, Steve Jerome, Bill Jerome, Dave Mullaney and Tony Rodriguez they form the band Hot Butter. All members have been working in the music business for years now. Abbot and one of the Jerome brothers are partners for 10 years, Bill Jerome is a multi-instrumentalist, Stan Free is a session pianist who worked with artists like Paul Simon and Peggy Lee and was credited on many film and TV productions. He noticed during the First Moog Quartet concerts that the audience reacted to song Popcorn. Hot Butter decided to record their own version, together with several other covers of songs. All played by the Moog synthesizer, still quite a novelty during that time.
At first, no-one is interested in their version of Poporn, based on the First Moog Quartet version. Until a friend of Talmadge takes the record to a disco in Paris the song got recognition. After that it quickly became an international hit, with cover versions sprouting up all over the world.
Popcorn hits number 1 on the German charts and sold over one million copies in that country alone. It became the first primarily electronic-based piece of music to reach the American popular music charts, peaking at #9 on the Billboard Pop Singles and #4 on the Adult Contemporary Chart. The single had a great success in Australia where it reached number one for ten weeks. It was also #1 in Switzerland, where it topped the chart for ten weeks and stayed for 17 weeks in the top ten. In Norway, it was #1 for nine weeks and featured for 21 weeks in the top ten. It was also number one in Germany and reached #5 on July 22, 1972 in UK and #15 in Canada - October 1972. In France, this version of "Popcorn" is the 131st best-selling single of all time, with about 900,000 sales.
Popcorn explosion
Other record companies noticed the success of the song, and they wanted to have similar success. This resulted in an explosion of Popcorns, each in their own countries. In Italy, there was La Strana Societa, in France Mister K/Mat Camison, Germany had Rod Hunter, Anarchic System had success in the Netherlands, Spain and several other countries.
In the Netherlands, the song also became a #1 hit, thanks to the various versions which were released in 1972 (these were Hot Butter, The Popcorn Makers, Anarchic System and Revolution System). There was not a solid policy for the same song by different artists back then. To avoid problems, the Dutch top 40 organization added all the versions together so that every music company which released Popcorn could say their song was at number 1. And it would a bit silly to play the same song four times in an hour.
And unlike so many pop songs, it has not faded into history. Not at all. Cover versions of "Popcorn" have continued to show up. An overview of several cover versions can be found here.
Later in his career, Kingsley started to work with classical orchestras, where Popcorn was played also. The song "Popcorn International" is an orchestral version of Popcorn played by the Cologne Radio Orchestra; the Boston Pops have also played it. The song consists of seven movements titled: Moderato, Japan, Italy, Spain, Austria, Hungary and USA (many thanks to John Gibbs from the Universaty of Washington for this). More info can be found here. There you can find a sample of Popcorn International too. Official album releases have not been found and precise dates are unknown, sadly.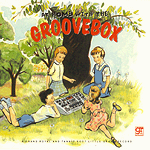 the 2000 version
In 2000, Kingsley re-recorded the song with the help of Producer Dave Baron. This version is released on the compilation album "At Home With The Groovebox", which also includes bands like Air and Beck. Then, in 2007, Kingsley played the song on a piano and released it on Youtube.